There are many Omega 3 tablets circulating in the Nutrition & Health world. This makes one wonder what is so essential about these fats? If you question the same, then this article will tell you everything about them.
Source:Dreamstime.com
WHAT ARE OMEGA 3 FATTY ACIDS?
Our body can produce most of the required fats.Omega-3 fatty acids are an exception (also called n-3 fats). These are necessary fats, which the body cannot produce on its own and must obtain from food. They are present throughout the body, especially in the brain, retina, and sperm cells.
Omega-3 fats are a key family of polyunsaturated fats. There are 3 most crucial members of this family –
ALA : ALA is alpha-linolenic acid. It is found mainly in plant oils such as flaxseed, soyabean and canola oils.
EPA & DHA : These are eicosapentaenoic and docosahexaenoic acids respectively. These are majorly found and consumed through Fish oil.
The most important function they play in our body is being the part of cell membrane/wall. By this, they have impact on functioning of cell receptors. They serve as a starting point for the production of hormones that control blood clotting, arterial wall contraction and relaxation, and inflammation. Because of their function, they connect to cell receptors that control genetic activity.
WHY ARE THESE FATTY ACIDS ESSENTIAL?
Heart / Cardiovascular Health : They may reduce the risk of heart disease and stroke (American Heart Association). These fats aid in heart health by maintaining Triglyceride levels which is also known as Blood fat. High level blood fat directly affects the functioning of the heart. Additionally, these fats regulate the cholesterol levels and maintain the blood pressure.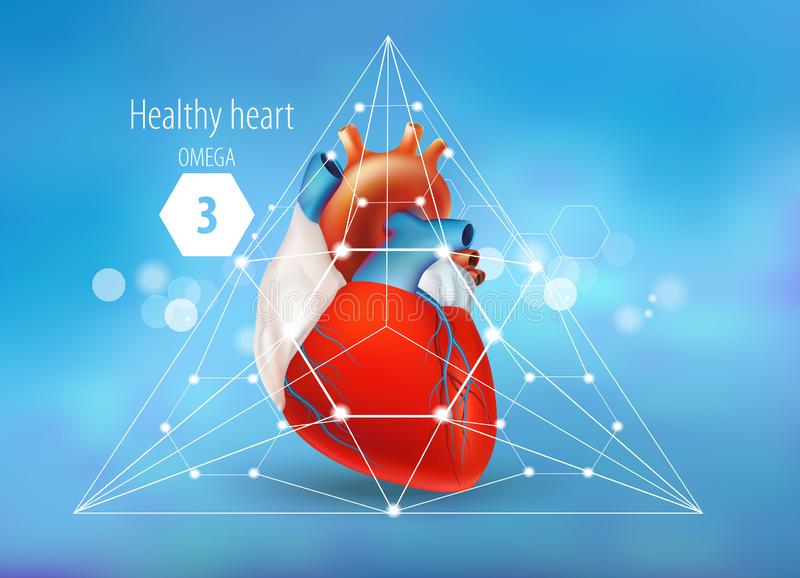 Source:Dreamstime.com
2. Cognitive Health : Consuming these fats from food such as fish may aid in a lower risk of developing Alzheimer's disease, dementia, and other problems with brain function. So, they help in cognitive health. (National Institutes of Health). In addition to this, certain studies suggest that EPA and DHA could help treat various neuropsychiatric conditions like depression, PTSD etc. (National Library of Medicine)
3. Bone & Joint Health : Diseases like Rheumatoid Arthritis harm the joint health by causing constant pain, stiffness and swelling. Regular consumption of these fats along with RA drugs and other treatments, have shown to help control RA.
4. Vision or Eye Health : These fatty acids may protect the eye health. Certain studies suggest that it helps to manage the dry eye disease.
5. Asthma : An omega-3-rich diet reduces inflammation, which is a crucial component of asthma.
---
WHAT ARE THE SOURCES OF OMEGA 3 FATTY ACIDS ?
You can either consume these Fatty Acids through food or supplements. The food sources are as follows :
| FISH SOURCES | VEGETARIAN SOURCES |
| --- | --- |
| Salmon | Chia seeds |
| Mackerel | Walnuts |
| Seabass | Kidney beans |
| Oysters | Soybeans |
| Sardines | Flaxseeds |
DIET SOURCES OF OMEGA 3
The other and most used source is consumption through supplements. This includes tablets infused with oils like fish oil, Cod liver oil and Algae oil.
So, what are you waiting for? Add a sufficient amount of Omega 3 Fatty Acids to your diet.