Looking for healthy grab-and-go low-fat snacks ideas to stave off your hunger without tipping the scale?
The search is over! Here we've rounded up some delicious and healthy recipes which are the one-stop solution for all your cravings. These low-fat recipes are loaded with fiber, essential vitamins, antioxidants, and minerals. Try them and we bet you'll love them. Bon Appetit!
Popcorns to the rescue
Popcorn is a great choice for a substantial snack with a low-calorie count. Air-popped popcorn is extremely minimal in fat, calories, and sugar. It's also high in fiber and whole grains, which can help you feel fuller for longer, as well as magnesium for bone and muscle health, potassium, and antioxidants.
To prepare air-popped popcorn, begin by gathering some fresh popcorn kernels. The freshness of these kernels is critical. But there's a snag! Popcorn kernels do not require butter or oil to pop. Instead, all you need is a nonstick pot with a tight-fitting lid to make your fresh kernels pop. Preheat the non-stick pot for 2 minutes over medium heat. After that, swiftly add the kernels to the saucepan and cover it with a tight-fitting lid. Remember to shake your pot every second or two after you've inserted the kernels. Remove the pot right away, and voilà! You'll have the greatest healthy air-popped popcorn ever.
Munch on our Carrot Energy balls
Carrot Energy Balls are protein balls packed with energy to help you get through the day. These no-bake carrot cake bites are vegan, healthful, and only take 10 minutes to prepare. Get a delicious carrot flavor that will keep you full while satisfying your snack desires. A food processor and a few simple ingredients are all you need.
To begin, mash fresh carrots, dates, oats, walnuts, and flax meal together in a food processor. To make our carrot balls more delicious, you can add chia seeds and a mix of spices. Process until all of the ingredients are well minced and a paste forms, then add the cinnamon, ginger, and pepper. Roll this mixture into balls, 1 tbsp at a time, and your delicious carrot balls are ready. If desired, refrigerate for 15 minutes to firm up, or enjoy right away. These balls can be kept in an airtight container in the fridge for up to 2 weeks.
Peanut butter Chocolate Protein Shake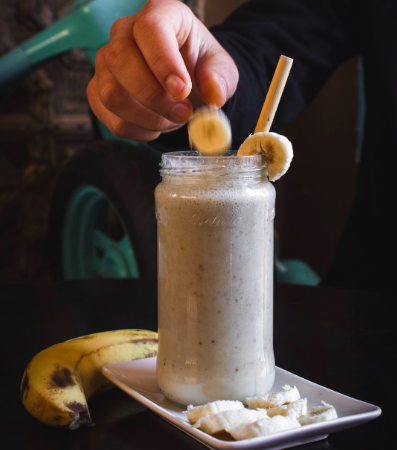 Protein smoothies are a wonderful option if you're looking for a low-fat snack that's easy to create and quells your appetite in the morning. Make a healthy snack with fruit, vegetables, and other foods on hand that tastes like dessert but is high in protein, vitamins, and minerals. Or you can also pour it into a travel cup with a straw and drink it on the move! The added benefit is that it tastes fantastic!
So have your blender ready and let's get started. To prepare this chocolate protein smoothie, follow these instructions:
To thicken the smoothie, put ice or fruit like a banana in a blender container; you can also use chia seeds instead.After that, mix in the peanut butter, almond milk, and protein powder. To give it a chocolate flavour, add raw cocoa powder and blend all of the ingredients. You can also add honey or any other natural sweetener to the drink. If the mixture is too thick, add a splash of milk until the desired consistency is achieved.
Healthy Yet Tasty Poha!
Poha also known as chivda is a light breakfast that is very healthy yet tasty and a great choice for those looking for some good source of healthy carbs. You will be amazed by the nutritional values it contains.
It is a very popular snack in India; hence it is prepared in a number of ways in different parts of the country but the very popular way to have it is with some vegetables added to it and topped with some spicy bhujia.
Roast some peanuts in a pan and take them out, heat some olive oil (or any oil) in a pan, add mustard seeds and let them crackle, now add 1 finely chopped onion and wait till they turn soft. It's time to add the peanut we roasted earlier; you may also add some boiled potatoes to it. Take a bowl of poha and add water to it, they will get soaked instantly so drain out the water. Transfer the soaked poha into a pan and mix all the ingredients gently, squeeze 1tbsp lemon juice and add salt as per taste and some freshly chopped coriander leaves. Mix gently and your dish is ready to serve, have it with spicy aloo bhujia toppings.
Make a fruit and nut combo
No need to cook! This simple mix combines a variety of healthful components such as mixed nuts, apples, and almonds for a dose of heart-protective fat.
A few dates, an orange (or kiwifruit), and roughly five nuts will offer you enough nutrients, sugar tied to fiber to keep blood sugar stable, and energy without the use of coffee or energy drinks.
In a large mixing bowl, combine ¼ cup raw cashews, ¼ cup raw walnut halves, sea salt, raw raisins, dried apricots, and dried cranberries. If desired, banana chips can be added. Combine the nuts and dried fruits in an airtight container and refrigerate. Your low-fat, nutritious combination is now ready.